HOUSE | APPARTEMENT | LAND
Buy newly built real estate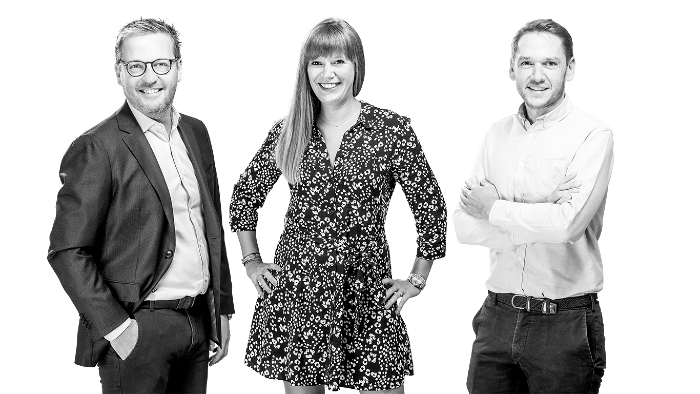 Let's get to know each other ?
By the way, nous sommes 3 entrepreneurs qui avons mis en commun nos expériences professionnelles dans le secteur de l'immobilier et nos bonnes valeurs au bénéfice de nos clients.
C'est au 433 de l'avenue Louise à Bruxelles dans une ancienne galerie d'art que l'aventure a débuté en y installant notre première agence immobilière.
L'ouverture de notre 2ème agence immobilière à La Hulpe nous a permis d'étendre notre zone d'activité qui couvre aujourd'hui Bruxelles, le Brabant Wallon et le Brabant Flamand.
What our customers say about us
Delighted customers.
Our reward.
In a word: "Professionalism". Very friendly and efficient. Excellent knowledge of the property market!
I had never heard of "home staging". Desperate for the lack of market interest for the property I had been trying to sell for several months, I asked help to Maïté. When I saw the result, it even made me want to go back and live there!
My husband and I used 3 agencies to evaluate our villa. By the Way's evaluation was by far the most relevant, qualitative and documented. The day we put our property up for sale it will be with By the Way.
Support from start to finish! The "peace of mind" of real estate. We felt advised and listened to with a lot of transparency.
By the Way" has 2 agencies located on Avenue Louise 433 in Brussels and Chaussée de Bruxelles 21 in La Hulpe, which allow us to cover Brussels and the Walloon and Flemish Brabants.
Consult the map of our agents.
Is your property no longer inhabited or does it need to be enhanced? We will take care of this service in order to present it in its best light.
We want to offer you a rigorous, professional, personalised, proactive and human approach. Each file is managed by a single agent in order to present your property in the best way.